Jun 28
Live-Directing
I was asked, "what's the difference in Live-Directing and Scripted"? So I stewed on it for a moment and thought, what really is the difference? 
I would say the biggest difference in the two is that directing a live conference, awards show, sports game, or even a concert your talent/subject (who or what you are shooting) does not really tell the story. You are not directing the speaker or band to say a line this way, or lean in there, but you are using your camera shots to tell your story. What I mean is that say the speaker tells a joke, I would cut to a wide shot panning across the venue to make things more light hearted and when the speaker starts to talk again, cut to a close up to get more intimate. 
Using camera shots and movement is the way you set emotion into your show. With anything scripted you are using your actors, props, camera shots, movement and such to tell your story and get the emotion across. 
This weekend I was fortunate enough to live-direct a massive conference in Pasadena, CA. We had three cameras, two stationary and one wireless roamer. Check out the highlight video from the conference.
Check out Dave Grieder's blog to find out more on how the editing team took the live footage and compiled it into this highlight reel, ON SITE!
Here are a few photos I took on my iPhone.
This was our roaming camera 3.
Placement of cameras 1(on the right) and camera 2(on the left)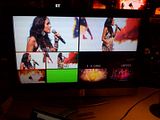 This was my screen set up, we have program top left, preview top right, cameras and OSG under that with 2 still stores.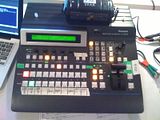 This was the Switcher i used for the conference, it was simple, HD, and worked great!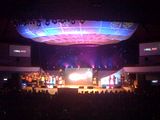 This is a shot of the venue. The lighting team did an amazing job!
So like I said the biggest difference in live-directing and scripted is how you tell your story, setting the tone not with your subject but with your shots. 
What are some of your live-directing experiences? Leave a comment and let me know!
Also:
Check out more from Creative James
and
Follow me on Twitter! 
May 31
Memorial Day Movies: A Salute to ur Troops
I found it only fitting that today I pull trailers from the best movies involving our troops and post them in support of the brave men and women of the United States Military. Thank you for all you do for our country.
Glory 1989
Patton
Band Of Brothers
The Pacific
Platoon
Saving Private Ryan
Black Hawk Down
What are some of your favorites? Leave a comment and let me know!
Also:
Check out more from Creative James
and
Follow me on Twitter! 
May 29
Review: Prince of Persia - The Sands of Time
Let me start by saying I am a sucker for an action film, and that said I am giving Prince of Persia an "eh". The one thing I can say is that they did a great job choreographing the fight scenes, It felt like something out of "Iron Monkey" or "Hero". The reason I liked that is because I felt it made the scenes feel real.
I loved the awesome urban running and the SPX, but the predictable and at times painstakingly impractical scenarios ruined the experience. Too many times I found myself saying, "No, way". After talking with the group I went with this was the over all consensus. Plus watching a movie about the Persian empire that is all in English with white actors was a bit hard to buy into.
My advice, if you are a MEGAfan of the game series, then you should see this. If you're not, wait for the blue ray.
Here is the trailer for those who haven't seen it yet.
Did you see it? Leave a comment and let me know what you thought!
Also:
Check out more from Creative James
and
Follow me on Twitter! 
May 28
Topic: Is digital better?
Having worked in every camera department position from utility or loader to a camera operator and DP using both traditional film and new digital formats I thought I would just share a few things about the differences.
Ill start with film, this one gets me nostalgic because this has been the way the industry has done this for years. A lot of the greats used film and still do. The most classic movies of all time used film and it carries a "true to the art" feel because of that. Being a loader and have having to load each mag and being an assistant camera and loading mags into the camera, checking the gate for film shavings that could mess with the shutter, it just has this old school sense. I love working with film, because it forces you to get creative at times, with film you have only a certain window of viewable light. if you're film stock only has a 3 stop range its tough to get different parts of your shot light, so you have to get creative! 
On the other hand digital offers a lot that film can't. Cameras like the RED, in which I have worked with quiet a lot, offer a range of services that make is much more cost effective. For one they do not need film stock because it records to a drive, they also do not need developing which is expensive. You can switch the ISO in the camera instead of needing to buy multiple film stocks to accommodate different scenarios. Probably the most immediate difference is the price of the camera. Some things are the same though, I have learned that you still need to have the footage professionally colored to look right, and that one is very expensive, but the pros out way the cons. Probably the best thing about digital is the ability to instantly playback and see a performance, this has also been a nightmare with certain King of Queen actors that need to see each shot before moving on, because if you question if that last take really was the perfect one, you can check.
As a director that is obviously one of my favorite things about digital and the fact that the quality of image you get is easily comparable to film. So my suggestion is that if you have the budget and want to get that old school, doing how Orson Welles did it feel, you should go with film. If you want to save some money and get the same look, maybe have some money for distribution, you should try one of the amazing digital options that are available. Here are some that I recommend:
1. The Red One - I have shot 2 films and 3 commercials with this and they use it on a series I was working on. The image quality is pretty comparable and the cost is low. 
2. Cannon 5D (or 7D) - For the price and size you aren't going to find something better right now. 
Try one of these out. Leave a comment and let me know how it worked for you!
Also:
Check out more from Creative James
and
Follow me on Twitter! 
What makes a Good Commercial? -
What makes a good commercial?

I was asked, what makes a good commercial, and I had to think for a moment. What does make a good commercial? If we are going to understand what makes a good commercial, first we need to know what a commercial is.

Dictionary.com defines a Radio or Television…
May 05
Topic: Make Your Movie!
With the economic decline the film industry has seen a weird phenomenon happening. Hollywood is no longer the film capital of the United States let alone the world. In 2007, there were over 100 studio-funded movies being made in Los Angeles.  By 2008 that number dropped to a measly 22, and in 2009 there were even less. This strange dilemma has left hundreds of people out of work and rental houses wondering what they can do to survive. There is an upside to all of this turmoil though; right now is the perfect time to produce your independent film.
Why is this a better time to shoot an indie-film? Because right now you can rent stages, rent gear, and hire crew for prices way below what is standard. Now the unions might not appreciate this article but I'm not talking about union people. I am talking about all of the very talented people that have not been given a chance. Everyone from Actors to camera operators to directors are out there just hoping for their shot to prove they deserve a spot in this business. This economy has made a great opportunity for you to get your story told.
This is what I say, if you have the itch, then get on the phone and do some ground work pricing out your film. Once you have a budget start the fund raising process, if you need information on fundraising there are some great books you can read on that. After you have your budget and funds start to haggle those prices down and get shooting asap because as soon as films start coming back to town so do those high prices. I think this is a very exciting time for filmmakers and I hope this has inspired you to go and make your project! 
Leave a comment and let me know what you think!
Also:
Check out more from Creative James
and
Follow me on Twitter! 
Apr 23
inside wonderland:: Green Numbers: -
Happy Earth Day!! :)

It's too bad I wasn't able to upload this earlier, but there's that saying that it's never too late! :)

I made this poster in honor of Earth Day. There are 10 facts that I think (and hope) will get your attention. By the numbers, we may not be at 100 percent on all…
Apr 20
Writing Action
Action is a tricky thing because on a page it can seem like a small paragraph but in AD terms(in 1/8s of a page); 1/8 of a page can end up being a full days work. When you write action in your script It helps to be overly descriptive in some ways, and vague in others. When you are dealing with pyro-technics it is good to explain how big of an explosion but thats as far as it can go. Long before getting to set you will have had meetings with pyro-techs and they are already working on getting the explosion you want. 
Fight scenes are where you can get descriptive, mostly with the environment the characters are in. Stunt guys are very well trainined and letting them be creative with the fight and offer something to you is in my opioin much better than writing each punch, which trust me I've seen. It is a good idea to pick things that are unique to the story, and put those in. Say your movie is about a ninja-spy that is stealing data from Jean Claude Van-Dam; you are going to want to write in when a ninja star is used and when JCVD slams a steal beam into the ninja hurting him; showing his weakness. 
A lot of times we can think when writing, as traditionally taught, that a page more or less equals a minute. The Reason I say this is that if you are working on an action script scaling 120+ pages with a lot of these fight scenes and explosion lines, you are looking at an easy 3 hour film. The reason this can hinder you is that people might start to get impatient waiting for the climax, and we've all heard the phrase "it was good but an hour too long". If you have a lot of action through the film you need to have a grandiose climax. 
One thing to think of when writing an action script is that people don't go to an action film to think, so keep the story simple. You can still have great characters with arcs, and have a great plot where life changing events take place, but don't make your audience hunt for answers. They will get frustrated very fast and eventually not like the film. 
At the end of the day, everyone is different and being creative and compelling when writing is the simple key. So, have fun writing your explosions, car chases, fight scenes, bomb defusions, and building-wrecking action sequences, I'll be watching!
What do you think? Leave me a comment and tell me know!
Also:
Check out more from Creative James
and
Follow me on Twitter! 
Apr 19
CG vs Story - A Battle for the Future of Film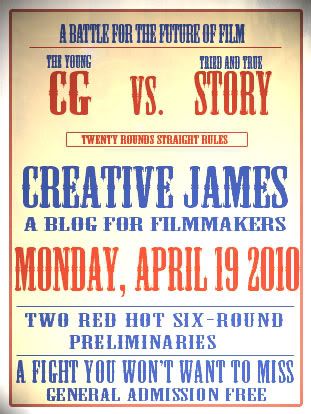 Lately it seems that if a film uses CG (Computer Generated Images), it has a very weak story. I've had countless debates about the effectiveness of CG with other film-makers. Since CG is still so new and we are able to do things that we haven't thus far, we tend to overdo it. The problem is, because we are creating so many new elements, we have been sacrificing the story.
For example, Transformers on many levels has revolutionized the way CG is used and integrated. I mean you have a 40 foot Automic-Robot standing in the same frame as an actual actor and it looks as real as the actor. The problem most film critics had with the film, was that the storyline was lacking just so that we could see more of the "cool" transformers; and let's be honest they do look cool. 
So how do we bridge the gap? I fully believe that using CG to create characters can evolve to a place where we can get the emotion out in a way that's believable. I heard James Cameron talking about 3D and he said when color first came out in film, everything was over saturated just because they could, but eventually color was fully integrated to enhance the film. He believes that's what is happening with 3D now. In previous movies, things would pop out at you just because that feature was available. He believes in the future, 3D will be used to add depth and let the viewer be fully immersed in the film. I believe the same idea applies with CG, as they are starting to make that change. I'm excited that CG has already started to enhance films instead of just being "cool" as we've seen in District 9.
Will there ever be the perfect movie that fully integrates CG while being intensely story driven? Probably not, but I'll be watching!
What do you think? Leave me a comment and tell me know!
Also:
Check out more from Creative James
and
Follow me on Twitter! 
Apr 18
Vujà Dé Studios
If you haven't heard of the company Vujà Dé Studios, let me tell you a bit. I am a 3rd share-holder in this creative company that specializes in building brands, cultivating stories and initiating public engagement. Check it out! 
Follow us on Twitter